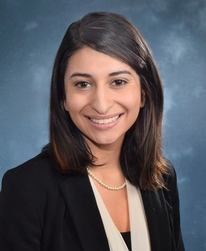 PRACTICES
Insurance
EDUCATION
Ms. Valtierra received her J.D. from University of Illinois College of Law, where she graduated cum laude. During her time in law school, Ms. Valtierra served as the President of the Women's Law Society and Secretary of the Intellectual Property Legal Society. Ms. Valtierra also took part in rigorous trial advocacy and appellate advocacy courses. Ms.Valtierra also competed in moot court competitions at the national level for the Colleage of Law. She graduated from Michigan State University with a Bachelor of Arts in Political Science degree - Pre-Law and Minor in Philosophy of Law in May 2014.
ADMISSIONS
Ms. Valtierra was admitted to the Illinois bar in November, 2017.
U.S. District Court, Northern District of Illinois, 2017.
U.S. District Court, Nebraska, 2019.
Elaina R. Valtierra
Associate
CONTACT INFORMATION

V-Card
Anniversary of Elaina Valtierra

January 7, 2021

Lipe Lyons is delighted to celebrate Elaina R. Valtierra's third anniversary with the firm. Ms. Valtierra is a litigation associate who focuses her practice on the defense of premise liability, construction liability, transportation liability, and product liability claims. Just a few of Ms. Valtierra's many successes in the past year are highlighted below:

Succeeded on four dispositive motions objecting to the court's personal jurisdiction in a products liability case;
Settled a complex construction liability claim weeks prior to trial, securing a settlement for a small percentage of Plaintiffs' initial $16 million demand;
Participating in the Illinois Defense Counsel Diversity and Inclusivity Committee's panel discussion: "Diverse Thoughts on Diversity."

Ms. Valtierra is an active member in a number of professional and civic organizations. Ms. Valtierra was selected to represent Lipe Lyons at the International Society of Primerus Law Firms' 2019 Global Conference in San Diego, California and the 2020 Young Lawyers Society Conference in Coral Gables, Florida. She also serves as the Vice Chair of the Illinois Association of Defense Trial Counsel's Diversity & Inclusion Committee. Additional information on Ms. Valtierra's experience and her exceptional results can be found in the attorney section of our website.

Lipe Lyons Women Attorneys to Join Rotating Cast of Female Neutrals from ADR to Discuss Impact of COVID-19 on Women Lawyers


July 13, 2020

On August 13, 2020, partner Amanda L. Zink, and associates Elaina Valtierra, Alejandra Barcenas, Sahrish Moyeed and Sarah Bourdet will join a rotating cast of female neutrals from ADR Systems, including Hon. Helaine L. Berger, (Ret.), Hon. Lisa R. Curcio, (Ret.), Amy L. Gertler, Esq., Hon. Kay M. Hanlon, (Ret.) and Hon. Brigid M. McGrath, (Ret.) for a virtual Happy Hour and Networking Discussion regarding the impact of COVID-19 on women lawyers. Topics will include how the COVID-19 pandemic has impacted female attorneys' ability to network, stretched their abilities as working professionals, and challenged them to serve their clients in new and remote ways.