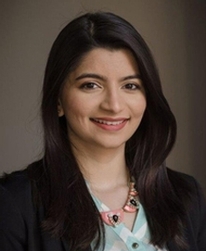 Practices
Appellate Litigation
Insurance
Catastrophic Loss
Construction
Product Liability
Professional Liability
Transportation
Education
University of Illinois College of Law, 2017
Women's Law Society
Journal of Law, Technology, and Policy editor
member of the Domestic Violence Clinic
DePaul University, B.A., International Studies and Public Relations and Advertising, 2014
cum laude
Admissions
Ms. Moyeed was admitted to the Illinois bar in November, 2017. She was also admitted to practice in the Northern District of Illinois in July 2018.
CONTACT INFORMATION

V-Card
Sahrish Moyeed is a litigation associate of Lipe Lyons Murphy Nahrstadt & Pontikis Ltd. who focuses her practice on the defense of premise liability, construction liability, transportation liability, and product liability claims.
Ms. Moyeed represents a diverse array of clientele including local and international manufacturing companies, park districts, restaurants, construction companies, hotels, hair salons, and engineering firms. She has defended her clients in cases involving asbestos exposure, automobile collisions, premises and construction liability, and catastrophic and wrongful death lawsuits. Ms. Moyeed is dedicated to solving her clients' legal problems in the most effective way possible. She tailors her advocacy to suit each individual client's needs and desires, whether that be through settlement or taking cases to trial. She has successfully settled and resolved cases at mediation and pre-trial conferences for a reasonable value saving her clients thousands of dollars. As an avid and effective researcher and writer, Ms. Moyeed has written and presented motions for summary judgment, motions to dismiss and motions to transfer before the Cook County Circuit Court judges. She is also involved in the firm's appellate work, writing briefs and petitions for appeal.
Prior to joining Lipe Lyons, Ms. Moyeed was a Legal Fellow at the University of Illinois Office of University Counsel where she was nvolved in advising and implementing policy on HIPAA privacy laws, labor and employment law, constitutional rights including the First Amendment and international laws such as the EUGDPR.
Professional Activities
Ms. Moyeed is a member of the following organizations:
Illinois Association of Defense Trial Counsel

International Society of Primerus Law Firms

Representative cases:
Lipe Lyons obtained dismissal with prejudice of a legal malpractice claim against a family law attorney and his law firm. The plaintiff, a former client, alleged that her attorneys failed to secure a sufficient amount of maintenance payments and properly categorize marital and non-marital assets, forcing her to settle for less than she was entitled to. The trial court first found that her claims for maintenance payments were barred by the statute of limitations, and gave the plaintiff leave to amend her complaint. After the amendment, the trial court dismissed the claims arising out of the categorization of marital property with prejudice because the plaintiff agreed in the settlement documents that the amount of the settlement was fair and reasonable, and it was speculative to assume she could have settled for more if the defendants had categorized her non-marital property differently.
Lipe Lyons won an appeal defending their clients in a legal malpractice claim. The plaintiff sued his former family law attorney and his firm because he was not satisfied with the result of his dissolution of marriage. Lipe Lyons litigated the phase through summary judgment, ultimately winning on summary judgment for their clients and again when the trial court denied the plaintiff's motion to reconsider. The plaintiff filed an appeal in the Second Judicial District Appellate Court of Illinois. The appellate court affirmed in favor of the defendants.
In a premises liability matter where the plaintiff alleged to have injured herself after slipping and falling at the defendant's restaurant, Lipe Lyons successfully obtained a defense verdict at arbitration with ADR Systems.

In a personal injury action, the plaintiff sued the defendant after allegedly suffering from burns during a treatment at the defendant's salon. The plaintiff sued the defendant in the Law Division of the Circuit Court of Cook County claiming more than $30,000 in damages. On a motion, Ms. Moyeed transferred the matter to the Municipal Division, for cases valued under $30,000 and then proceeded to settle the case for one-fifth of the plaintiff's settlement demand, saving her client litigation and mandatory arbitration costs.
Ms. Moyeed graduated from the University of Illinois College of Law in 2017. At the University of Illinois she was an active member of the Women's Law Society, an editor on the Journal of Law, Technology, and Policy, a member of the Domestic Violence Clinic, and a legal writing and appellate advocacy teaching assistant. She participated in the University's internal moot court competition and represented the University in the Touro Law Center's National Moot Court Competition in Law and Religion. She graduated cum laude from DePaul University with a Bachelor of Arts in International Studies and Public Relations and Advertising in June 2014.
Ms. Moyeed is an active member in a number of professional and civic organizations, including:
American Bar Association
Chicago Bar Association
Illinois Bar Association
Women's Bar Association