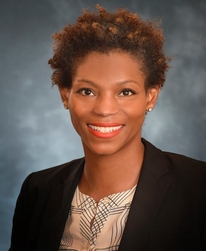 PRACTICES
Commercial Litigation
Construction
General Liability
Insurance
Product Liability
Transportation
EDUCATION
Starr graduated from Mercer University in 2007 with a Bachelor of Arts in English Literature, cum laude. She earned her Juris Doctor from University of Notre Dame in 2011.


ADMISSIONS
Starr was admitted to the Illinois bar in 2011.
Starr M Rayford
Associate
CONTACT INFORMATION

V-Card
Starr Rayford is an accomplished attorney who has dedicated her career to litigation. She represents clients in state and federal courts throughout the U.S. She is well-versed in all aspects of litigation, from pre-suit investigations through trial and appeals. Ms. Rayford's practice includes construction negligence, premises liability, and product liability. She specializes in defending high-stakes injury cases involving catastrophic loss. She has successfully defended personal injury claims arising from death, quadriplegia, paraplegia, and catastrophic brain injury.
Ms. Rayford maintains an active pro bono practice. Notably, she successfully represented a criminal defendant during his appeal to the U.S. Court of Appeals for the Seventh Circuit. Ms. Rayford drafted numerous appellate and supplemental briefs and enjoyed an intense mental sparing session during oral arguments with Judges Richard Posner, Ann Williams and Diane Wood. Ultimately, both the appellate panel and the trial court, upon remand, adopted Ms. Rayford's reasoning that a ten-year sentence was the only legally-sanctioned sentence available.
In addition to her active pro bono practice, Ms. Rayford also spends considerable time teaching, mentoring, and tutoring future lawyers. She teaches law students at her alma mater, Notre Dame Law School, and mentors recent law graduates as a member of MLER's Board of Directors.
____________________________________________________________________________________________
Professional Activities
Ms. Rayford is active in a number of professional and civic organizations, including:
Chicago Bar Association
Illinois State Bar Association
Illinois Association of Defense Trial Counsel
International Society of Primerus Law Firms