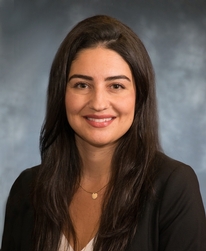 PRACTICES
General Liability
Construction
Transportation
Product Liability
EDUCATION
Ms. Bourdet graduated from Central Michigan University in 2007 with a Bachelor of Arts in Broadcasting. She earned her Juris Doctor from Loyola University School of Law in 2013.
ADMISSIONS
Ms. Bourdet was admitted to the Illinois bar in 2014.
CONTACT INFORMATION

V-Card
Congratulations to Sarah Bourdet

October 14, 2020

Lipe Lyons is proud to celebrate Sarah Bourdet's two year anniversary with the firm. Ms. Bourdet is an associate with Lipe Lyons with over six years of experience in litigation. Just a few of Ms. Bourdet's successes in the last year include:

Helping a client revise their workplace drug policy in light of new Illinois cannabis laws that went into effect in January 2019;
Defending an auto dealership against a claim of fraud and obtained a settlement of less than 10% of the claimed damages; and,
Resolving a dispute between condo association and owner regarding the use of service animals in common spaces by crafting a letter comporting with both the Assistance and Service Animal Integrity Act and the condo association's guidelines for attestation by the owner's medical provider.

Ms. Bourdet's organization and affective client communication led directly to these outstanding outcomes. Additional information on Ms. Bourdet's experience and her exceptional results can be found on her resume.

Lipe Lyons Women Attorneys to Join Rotating Cast of Female Neutrals from ADR to Discuss Impact of COVID-19 on Women Lawyers


July 13, 2020

On August 13, 2020, partner Amanda L. Zink, and associates Elaina Valtierra, Alejandra Barcenas, Sahrish Moyeed and Sarah Bourdet will join a rotating cast of female neutrals from ADR Systems, including Hon. Helaine L. Berger, (Ret.), Hon. Lisa R. Curcio, (Ret.), Amy L. Gertler, Esq., Hon. Kay M. Hanlon, (Ret.) and Hon. Brigid M. McGrath, (Ret.) for a virtual Happy Hour and Networking Discussion regarding the impact of COVID-19 on women lawyers. Topics will include how the COVID-19 pandemic has impacted female attorneys' ability to network, stretched their abilities as working professionals, and challenged them to serve their clients in new and remote ways.