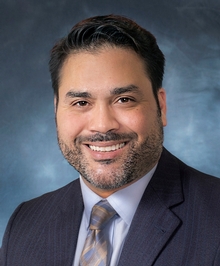 Education
Mr. Ortiz received his Juris Doctor Degree from Valparaiso University in 2001. He received his Bachelor of Arts degree from Purdue University in 1996.
Admissions
Mr. Ortiz has been admitted to the following:
Illinois Bar
Supreme Court of Illinois
U.S. District Court, Northern District of Illinois
CONTACT INFORMATION

V-Card
Henry Ortiz is a litigation partner who focuses his practice on the defense of personal injury, premises liability, construction liability, and product liability claims.
Mr. Ortiz has extensive experience in every phase of litigation, including the taking of both discovery and evidence depositions; taking of expert depositions; binding and non-binding arbitrations; mediation preparation and attendance; and trial preparation and attendance. Mr. Ortiz has represented companies in high profile, catastrophic injury lawsuits filed as the result of the Cook County Administration Building fire in 2003 and the Indiana State Fair Stage Collapse in 2011. Prior to joining Lipe Lyons, Mr. Ortiz spent more than two decades at a local defense firm.
Professional Activities:
Mr. Ortiz is an active member in a number of professional and civic organizations, including:
Illinois Bar Association
Women's Bar Association
Hispanic Lawyers Association of Illinois
Illinois Association of Defense Trial Counsel
International Society of Primerus Law Firms