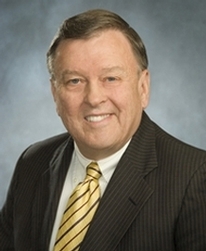 Practices
Appellate Litigation
Class Actions and Mass Torts
Commercial Litigation
Catastrophic Loss
Insurance
Product Liability
Education
Mr. Murphy received a B.S. in Mechanical and Aerospace Engineering in 1969 from the Illinois Institute of Technology. He received his J.D., with honors, in 1980 from DePaul University College of Law.
Admissions
Mr. Murphy was admitted to the Illinois bar in 1980 and also has been admitted to the following trial and appellate courts:
U.S. District Court, Northern District of Illinois (including the trial bar)
U.S. District Court, Southern District of Illinois
U.S. District Court, Central District of Illinois
U.S. Court of Appeals, Seventh Circuit
Tribal Court, Prairie Band of the Potawatomi Nation

In addition, Mr. Murphy has been admitted pro hac vice in 14 states.
Edward J. Murphy
Of Counsel
CONTACT INFORMATION

V-Card
Durica et al. v Commonwealth Edison Co. et al.

Lipe Lyons successfully defended a large tree cutting contractor in a class action lawsuit alleging that our client, along with Commonwealth Edison, improperly removed trees from properties owned by the plaintiffs and members of the putative class. The class exceeded 5,500 members; it was defined as all individuals in the State of Illinois who own property underneath or adjacent to Commonwealth Edison power transmission lines. After we defeated Plaintiffs' motion for class certification, the case settled and was dismissed with prejudice.

Arlington Park-Washington Park Race Track Corporation, et. Al. v. F.E. Moran Inc., Fire Protection, et al

Circuit Court of Cook County, IL. Racetrack fire. Represented defendant F.E. Moran, Inc., Fire Protection, a sprinkler installation contractor. This fire allegedly started in a fluorescent light fixture located in the ceiling of a portion of the racetrack/grandstand structure (originally erected in 1926) known as the Horseman's Lounge. This portion of the structure was not sprinklered. Moran had installed the sprinkler system (retro fit) in the adjacent wooden grandstand structure. It was alleged that Moran failed to place sprinklers in certain hidden, enclosed spaces throughout the grandstand. No sprinklers were installed in the Horseman's Lounge because the governing state regulations required sprinklers only in the portions of the racetrack which were open to the general public. The fire spread from the unsprinklered area to the sprinklered grandstand eventually destroying the entire structure. The plaintiffs, the owner of the facility and owners of other physical property kept in the building, claimed damages in excess of $100 million. Settled shortly before trial.

Barber v. Kansas Propane of Topeka, Inc., et al

Tribal District Court of the Potawatomi Nation, Mayetta, Kansas. Products liability/propane explosion. Represented Kansas Propane of Topeka, a retailer distributor of LPG gas. Plaintiffs were seriously burned in a residential home propane gas explosion on the Potawatomi reservation. The suit sought special, general, and punitive damages based on theories of negligence, strict liability, and breach of implied warranty. Case involved significant choice of law issues. Case was settled at mediation.

ChemRep, et al. v. Dickinson Associates, et al.

Circuit Court of Cook County, IL. Warehouse fire. (12 consolidated suits for property damage and business interruption and other economic losses) by 36 individual and corporate plaintiffs. Represented Dickinson Associates, the owner of a large warehouse building built in 1914. The fire started on the fourth floor of the warehouse in the engine compartment of a propane fueled forklift truck. The propane cylinder on the forklift exploded spreading fire to nearby cardboard cartons. The warehouse was fitted with a sprinkler system in 1914 as it was initially constructed to store grain. The sprinkler system had fallen into disrepair over the years and was not operating at the time of the fire. The plaintiff's, building tenants who stored personal property in the warehouse, claimed losses exceeding $14 million in suits against the building owner and several other defendants. Settled shortly before trial.

Boulevard Bank, et al v. Acorn Electric

Circuit Court of Cook County, IL. Industrial building fire. Represented defendant Acorn Electric. Owner and tenant of an industrial building sued an electrical contractor for damages exceeding $1 million alleging negligence in the course of a re-wiring project on the premises two years before the fire. The defendants' motion for summary judgment was granted and affirmed on appeal. 312 Ill.App.3d 1193, 769 N.E.2d 566 (1 Dist. 2000).

Hartford Insurance Company v. LaBodega Ltd.,et al

Cook County, Illinois. Declaratory judgment/insurance coverage. Clients: LaBodega Ltd., a wholesale grocery company, and one of its employees, Pedro Macias. The court held that Hartford was obligated to defend and indemnify the defendants, LaBodega and Macias, up to the $2.5 million policy limits of two Hartford policies for a wrongful death claim. Hartford had refused to defend LaBodega and Macias in the wrongful death case and sought a declaration that they owed no coverage on the basis of late notice and their assertion that Macias was not an employee of LaBodega.

Renee Heiderman and Joseph Heiderman v. Mark Peppin

Cook County, IL. Vehicular traffic/personal injury. Client: defendant Mark Peppin. Negligence was admitted. Verdict for plaintiffs, $67,912. The defendant's settlement offer of $70,000 was made three years prior to trial.

Jewel Foods v. Trailwood Transportation, et. al.

Circuit Court of Cook County, IL. Warehouse fire. Represented Trailwood Transportation, the owner and operator of a tractor trailer rig. This fire allegedly started on or near a dock pad/seal on the loading dock of the refrigerated food warehouse. The cause of the fire was alleged to be heat from the plastic lens of a marker light affixed to the rear of the Trailwood trailer. The lights had been left "On" when the vehicle was backed up against the dock seal. The fire spread rapidly throughout the building due to the high flammability of insulation material (polystyrene foam) used in converting the warehouse for storage of refrigerated foods and a non-functioning sprinkler system (deluge valves failed to open allegedly due to poor maintenance and/or a design defect in the valves). Jewel Foods, a grocery retailer and the lessor of the warehouse, sued Trailwood as well as the manufacturers of the trailer, the marker lights, and the deluge valves seeking $30 million for property damage and lost profits/business interruption. Settled shortly before trial.

Estate of Lichaw, et al. v. 69 West Washington Management Company LLC, et al.

Circuit Court of Cook County, IL. Defended Aargus Security Systems and BGK Security Services in six wrongful death and 16 personal injury lawsuits (consolidated for discovery) arising from an office building fire that occurred on a Friday afternoon in a high-rise building in downtown Chicago. Multiple governmental investigations followed, including one by an ad hoc commission appointed by the Cook County Board that conducted public hearings. In all, 22 lawsuits were filed against the security companies, the building management company, several contractors, the City of Chicago and Cook County, Ill. More than 200 depositions were taken. Cases settled on the eve of trial.

Meckley v. TruGreen ChemLawn

Duvall County, Florida. Client: TruGreen ChemLawn. Vehicular traffic, personal injury. Negligence was admitted. Plaintiff claimed past and future economic damages in excess of $500,000, present cash value. Verdict for plaintiff for $5,000. Jury found plaintiff's injuries were not permanent, thereby precluding any award for general damages under Florida law.

Estate of Phillipart v. Archer Daniels Midland

Sangamon County, IL. Nuisance/vehicular traffic. Client: defendant Archer Daniels Midland Company. Wrongful death/personal injury of 18 year old French foreign exchange student who survived in a coma for 1-1/2 years after the accident. Verdict for plaintiff for $550,000. Reversed by Illinois Supreme Court with judgment entered for defendant without remand; First Springfield Bank & Trust v. Galmon, 188 Ill.2d 252, 720 N.E.2d 1068 (1999).

Rogers v. Material Handling Services, et al.

Circuit Court of Lee County, Illinois. Products liability/forklift. Represented Material Handling Services, distributor of a forklift truck sold. The estate of the deceased forklift driver brought suit against Material Handling alleging negligence for failure to notify Rogers' employer, the owner of the forklift, of the availability of a universal safety seat developed 20 years after original sale. The plaintiff claimed that the defendant had assumed a post-sale duty to warn/retrofit. The defendant's motion for summary judgment was granted and affirmed on appeal. Rogers v. Clark Equipment Company, 318 Ill.App.3d 1128, 744 N.E.2d 364 (2nd Dist. 2001).

Sedler v. Hobart Corporation

U.S.D.C., District of Maryland. Products liability/commercial meat saw. The plaintiff, a meat cutter, sustained finger amputations while operating a Hobart Model 5701 Slant Saw. The plaintiff brought an action against the manufacturer seeking compensatory and punitive damages. The defendant moved for summary judgment on the basis that the plaintiff could not prove a causal relationship between his injury and the alleged product design defect, a saw blade inclined at 15 degrees from the vertical. The defendant's motion for summary judgment was granted. No appeal was taken.

Estate of Smith v. Midco

Shelby County, Illinois. Products liability/earth scraper. Client: Midco Sales & Service Co. Wrongful death of a 38 year old woman operating an earth scraper. Verdict for defendant.

Unitrin Preferred Insurance Company as subrogee of Emin & Annalisa Tuluce v. Falviu George Dobra d/b/a FDD Construction.

Represented defendant Falviu George Dobra, a floor finishing contractor in a property damage/subrogation suit brought by the insurer of a residence damaged fire. The plaintiff claimed over $900,000 in damages for amounts paid to the homeowners to repair the home after the fire. The plaintiffs' experts contended that the fire started because the defendant allowed floor varnish to leak through the floor vent openings into the basement where the vapors were ignited by a pilot light which the defendant failed to extinguish. The defense experts contended that the fire did not start in the basement by ignition of flammable vapors but started in the first floor kitchen as a result of an electrical fault in the television set. There was a jury verdict for the defendant which was affirmed on appeal. 2013 Ill.App. (1st) 121364, 2 N.E.3d 360 (1st Dist. 2013).

Estate of Mary Wade, Deceased, and J.W. Wade v. Kevin Coleman

Cook County, IL. Vehicular traffic case. Client: defendant Kevin Coleman. Wrongful death of single mother of three children and personal injury to adverse driver J. W. Wade. Result: J.W. Wade - verdict for defendant; Estate of Mary Wade, Deceased - Verdict for plaintiff, $178,493.

Village of Crestwood v. Ironshore Specialty Insurance

Circuit Court of Cook County, Chancery Division: On February 22, 2013 the Illinois Appellate Court, affirmed a summary judgment order of the Cook County Circuit Court, in favor of Lipe Lyons client United National Insurance Company and two other insurers. The case arises from insurance coverage litigation spawned by 30+ individual and class action water contamination lawsuits brought against the Village of Crestwood, Illinois. In the underlying cases the plaintiffs alleged that the village knowingly and routinely mixed water from a well polluted by perchloroethylene, with Lake Michigan water and distributed it to village residents through the village's tap water supply. The village sought defense and indemnity from several insurers who had provided General Liability, primary and excess policies over the period of the alleged pollution. The carriers denied coverage based on the Absolute Pollution Exclusions contained in the policies. The village argued on appeal that: (1) it was alleged to have been merely the distributor of a defective product (drinking water); (2) it was not the initial cause of the pollution; (3) its policies should provide coverage for claims arising from one of its "central business activities" (water distribution); and (4) the pollution exclusion was intended only to apply to parties who were potentially liable for clean-up costs under CERCLA. The Court rejected these arguments and held that the exclusions were effective to allow denial of coverage. 2013 Ill.app. (1st) 120112, 986 N.E.2d 678 (1st Dist. 2013).

Waypoint Aviation Services, Inc., et al. v. Lycoming Engines, a Division of Avco Corporation

Circuit Court of Cook County, IL: Represented defendant in a class action lawsuit brought on behalf of a putative nationwide class and 13 named plaintiffs seeking more than $60 million in damages. Plaintiffs allege that 5,000 reciprocating aircraft engines manufactured and sold by the defendant contained defective crankshafts. Plaintiffs' lawsuit is based upon alleged violation of the consumer fraud laws of 49 states and the District of Columbia. Plaintiffs' motion for class certification was denied and the suit was dismissed in 2014.

Western Railway Devices Corporation v. Addition Precision Products, Inc.

Circuit Court of Cook County, IL: Settled putative class action on behalf of defendant in lawsuit alleging violation of the Federal Telephone Consumer Protection Ace and the Illinois Consumer Fraud Act, as well as common law conversion. Plaintiff claimed that the defendant transmitted a large number of unsolicited advertising faxes to class members over a four-year period. The federal statute on which the case was based provides for $500 in damages for each unsolicited fax. Case settled on an individual basis before presentation of motion for class certification.

Tatania Garrett v. Sawbill Properties, Inc. and ICM Properties, Inc.

Circuit Court of Cook County, IL. Obtain dismissal of consumer fraud and ordinance violation claims in a putative class action brought against the owners and managers of more than 2,000 residential rental units in the City of Chicago. Plaintiff alleged that defendants' practice of charging tenants an "administrative fee" at the commencement of the lease period violated the Chicago Residential Landlord Tenant Ordinance related to security deposits and payment of interest by landlords who hold such deposits. The remaining class action claims alleging failure to maintain the properties were dismissed pursuant to settlement with then named plaintiff.

Dominick's Finer Foods, LLC v. Eurest Services, Inc.

Circuit Court of Cook County, Illinois: This was a breach of contract suit brought against a Lipe Lyons client, a janitorial service, by Dominick's with whom it had a contract for floor cleaning services. Dominick's alleged that Eurest breached its contractual duty to defend and indemnify Dominick's for the cost of defending a previous premises liability suit brought against both Dominick's and Eurest. Dominick's also alleged that Eurest failed to procure proper insurance for Dominick's as required by the contract. The court granted Eurest's motion for summary judgment on the basis that it did not owe a duty to defend the claim against Dominick's because the underlying complaint alleged independent acts of negligence by Dominick's which did not arise out of Eurest' s negligence. The court also entered summary judgment for Eurest on a second count, alleging failure to procure insurance, because Eurest had purchased an insurance policy which covered Dominick's as an additional insured and the carrier had refused to defend on the basis of the allegations of the complaint in the underlying premises liability case. The circuit court also denied the cross motion for summary judgment filed by Dominick's. Dominick's has filed a notice of appeal.