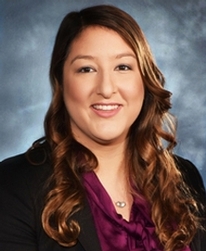 Practices
Commercial Litigation
Construction
Catastrophic Loss
Transportation
Education
Ms. Barcenas earned her Juris Doctor and Certificate in Advocacy from Loyola University Chicago School of Law in 2018, where she was the Student Director for the Loyola Life After Innocence legal clinic. She graduated from Boston University in 2014 with a Bachelor of Arts in Political Science and Philosophy.
Admissions
Ms. Barcenas was admitted to the Illinois bar in 2018.

Ms. Barcenas was admitted to the Northern District of Illinois in December, 2018.
Alejandra Barcenas
Senior Associate
CONTACT INFORMATION

V-Card
Alejandra is a Senior Litigation Associate at Lipe Lyons who focuses her practice on the defense of commercial, construction, premises liability, and transportation claims in state and federal courts.
As a Senior Associate Attorney with Lipe Lyons, Ms. Barcenas has represented clients in state and federal courts in cases involving business and commercial disputes, personal and business property damage, breach of contract, civil conspiracy, breach of restrictive covenant, copyright infringement, intellectual property infringement, corporate disputes and corporate dissolutions. Ms. Barcenas has also represented clients in personal injury cases involving claims arising out of transportation, construction, and product-related accidents. Since joining Lipe Lyons, Ms. Barcenas has successfully defended clients in all stages of litigation, including numerous pretrial settlement conferences. Ms. Barcenas has extensive experience working on complex trials and trial preparation, and has also successfully resolved numerous cases through mediation and arbitration.
Prior to joining Lipe Lyons, Ms. Barcenas became a certified mediator with the Chicago Center for Conflict Resolution in 2017 and thereafter mediated several court-mandated mediations in both English and Spanish, as a fluent native Spanish speaker, for cases pending in the Circuit Court of Cook County. Ms. Barcenas also worked for a Chicago-based litigation law firm where she gained extensive experience in the areas of property insurance subrogation litigation, insurance coverage and defense, business and commercial litigation, condominium disputes, personal injury, and resolving disputes through court-mandated mediation and arbitration and inter-company arbitration. Ms. Barcenas also has experience handling disputes arising from construction worksite accidents, and representing general contractors and subcontractors in personal injury cases and in complex disputes involving construction contracts and subcontracts.
Ms. Barcenas has worked on cases in both State and Federal Courts located in a number of States including Illinois, Indiana, Michigan and Missouri.
Ms. Barcenas is a native Spanish speaker (Translation and Interpretation).
Ms. Barcenas is an active member in a number of professional and civic organizations, including:
Hispanic National Bar Association (HNBA)
Hispanic Lawyers Association of Illinois (HLAI)
International Society of Primerus Law Firms
Illinois Association of Defense Trial Counsel
Illinois State Bar Association
Women's Bar Association
News and Publications:
April 2020 "Alejandra Barcenas featured in LLSA Alumni Spotlight Newsletter published by Loyola University Chicago School of Law's Latinx Law Student Association." https://www.linkedin.com/posts/activity-6656601749412958208-dl49
May 24, 2019 "Alejandra Barcenas featured in Chicago Lawyer Magazine article on the many different paths there are to a career in law and highlighting the pathways taken by three first-year associates, including Ms. Barcenas." https://www.chicagolawyermagazine.com/cl0519_associatepayarticle
May 23, 2019 "Jordan M. Tank and Alejandra Barcenas featured in Chicago Daily Law Bulletin article covering commercial eviction/business dispute case in which the jury the jury returned a verdict in favor of Lipe Lyons' client after less than 10 minutes of deliberations. " https://www.chicagolawbulletin.com/jury-finds-in-favor-of-disposal-company-after-eviction-trial-20190524
Representative Matters:
In a commercial eviction/business dispute, the jury returned a verdict in favor of Lipe Lyons' client after less than 10 minutes of deliberations. The plaintiff landlord sought eviction of its tenant. The defendant alleged the plaintiff sought eviction to retaliate against it and to shut down its business because it was competing with another business that an owner of the plaintiff started operating next to it just six weeks before the plaintiff filed suit. After the tenant signed the lease at issue, it helped the plaintiff develop the business that started just six weeks before the suit was filed, with the expectation that it would be allowed to operate the business once it opened to the public. However, the plaintiff's owner decided he would rather have the defendant remain where it is currently located and pay rent while he started another company to operate the compost facility and receive the revenue it generated. Internal correspondence and documents created by the plaintiff and its agents showed that they knew the defendant had a right under the lease to relocate its business and operate the compost facility. When the compost facility started operating, the defendant sent correspondence to the plaintiff stating that it had breached the lease. One month later, the plaintiff filed its lawsuit seeking eviction. After a week of trial, the jury found in favor of the defendant.
In the U.S. District Court for the Northern District of Illinois, Eastern Division. On behalf of defendants, Ms. Barcenas successfully settled commercial/business dispute alleging multiple breaches of contract, breach of restrictive covenant, copyright infringement, and intellectual property infringement. A settlement agreement was reached for an amount equal to less than half of plaintiff's alleged damages during a pre-trial settlement conference lasting over five hours. Following the settlement conference, over the course of several months after the settlement conference, successfully negotiated a settlement release between the parties over ten-pages long reflecting the settlement agreement reached during the conference.
In a case involving injuries sustained by a plaintiff after she fell off of her bike while riding through an active construction zone, Ms. Barcenas represented multiple defendants during a court mediation and successfully negotiated a favorable settlement for those clients, preventing the need for further complex litigation. Despite Plaintiff's opening global settlement demand of $950,000, the case ultimately settled with Lipe Lyons' clients paying only a collective sum of $20,000.