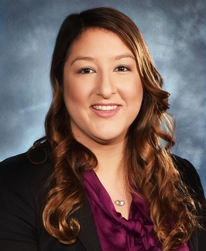 PRACTICES
Commercial Litigation
General Liability
Transportation
EDUCATION
Ms. Barcenas earned her Juris Doctor and Certificate in Advocacy from Loyola University Chicago School of Law in 2018, where she was the Student Director for the Loyola Life After Innocence legal clinic. She graduated from Boston University in 2014 with a Bachelor of Arts in Political Science and Philosophy.
ADMISSIONS
Ms. Barcenas was admitted to the Illinois bar in 2018.

Ms. Barcenas was admitted to the Northern District of Illinois in December, 2018.
Alejandra Barcenas
Associate
CONTACT INFORMATION

V-Card
Alejandra Barcenas Excited to Join Esteemed Group of Latina Lawyers at the HNBA Latina Leadership Academy

August 31, 2020

On September 15, 2020, Associate, Alejandra Barcenas, will join fellow Latina lawyers from across the country and from all areas of the profession in attending the 2020 Hispanic National Bar Association Latina Leadership Program. Each year, during the HNBA/VIA Annual Convention, the Latina Commission offers professional development and leadership training programs aimed at Latina lawyers. The Latina Leadership Academy offers curriculum specifically developed for Latina attorneys and draws from a significant body of research from both the Commission and other leading organizations. The program addresses areas identified as key to shattering glass ceilings and securing the advancement and long-term success of Latina lawyers—the most underrepresented group in the legal profession. The Academy's curriculum builds off the successful programs on Grit and Growth Mindset and delves into concepts of executive presence, cultivating leadership skills, and what it means to be authentic in organizations where Latinas remain underrepresented at all levels.

Lipe Lyons Women Attorneys to Join Rotating Cast of Female Neutrals from ADR to Discuss Impact of COVID-19 on Women Lawyers


July 13, 2020

On August 13, 2020, partner Amanda L. Zink, and associates Elaina Valtierra, Alejandra Barcenas, Sahrish Moyeed and Sarah Bourdet will join a rotating cast of female neutrals from ADR Systems, including Hon. Helaine L. Berger, (Ret.), Hon. Lisa R. Curcio, (Ret.), Amy L. Gertler, Esq., Hon. Kay M. Hanlon, (Ret.) and Hon. Brigid M. McGrath, (Ret.) for a virtual Happy Hour and Networking Discussion regarding the impact of COVID-19 on women lawyers. Topics will include how the COVID-19 pandemic has impacted female attorneys' ability to network, stretched their abilities as working professionals, and challenged them to serve their clients in new and remote ways.