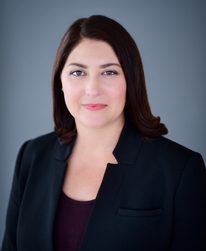 PRACTICES
Construction
General Liability
Insurance
Product Liability
Rideshare and Autonomous Vehicles
EDUCATION
Ms. Zink graduated from DePaul University College of Law in May of 2004. While at DePaul, Ms. Zink was a member of the Dean's List and was awarded four CALI Excellence for the Future Awards for receiving highest grade in Legal Writing I, Legal Writing II, Client & Community Relations and Trial Advocacy II. She graduated from University of Illinois with a Bachelor of Arts in English and a minor in philosophy in May of 2001. At UIUC, Ms. Zink was a member of the Dean's List.




ADMISSIONS
Ms. Zink was admitted to the Illinois Bar in November of 2004. She was also admitted to practice in the Northern District of Illinois in January of 2005, and the Southern District of Illinois in 2019.

She was admitted to the United States District Court of Nebraska and the Southern District of Indiana in 2018, and to the Northern District of Indiana in 2019.

CONTACT INFORMATION

V-Card
Dillow v. Tri-Cities Dialysis

Obtained summary judgment for the defendant medical provider in a premises liability action brought by a patient who allegedly tripped over a mat and fell, sustaining injuries that required orthopaedic surgery.

Elofson v. Costco

January 17, 2019

Defended premises liability action where Plaintiff sought damages following a slip and fall on food in a food court area. Summary judgment was secured for the Defendant.


Gaode v. G&H Developers Corporation

Defended a premises lability action where the Plaintiff sought damages following a slip and fall in ice and snow requiring an ORIF surgery. Summary Judgement was secured for the Defendant.


Handler v. Powell Tree Care, Inc.

The plaintiff was a mother who claimed injuries to herself and her young child, and developmental injuries to her unborn baby, after she fell. The plaintiff voluntarily dismissed her claim after the defendant moved for summary judgment.

Kutcher v. Reed

Defended property claim. Successfully barred the Plaintiff's testimony and ability to present evidence at arbitration or trial. Judgment secured for the Defendant.


Meyer et al. v Currie Tech Corp., et al.

April 8, 2019

Lipe Lyons attorneys settled a complex product liability case pending in Omaha, Nebraska days before trial for a small percentage of the plaintiffs' initial $29 million demand. One of the plaintiffs had purchased an e-bike conversion kit that added a 500-watt motor to his 30-year-old bicycle. He installed the kit himself. Shortly after the installation he was thrown from the bicycle and onto his head in an unwitnessed accident. He alleged the accident caused a traumatic brain injury that prevented him from continuing his successful practice as a psychiatrist. His wife also sought damages for loss of consortium. The plaintiffs alleged strict liability, negligence, res ipsa loquitur, and breach of warranties. Defendants argued that the conversion kit was properly designed, manufactured, and accompanied by sufficient documentation, and that the plaintiff negligently installed the kit on his bicycle.

Pham v. Bedford

Defended an adverse motor vehicle action. Secured dismissal of Plaintiff's suit with prejudice for Plaintiff's failure to be diligent in the service of this matter.